Posts
Danai invited to '2014 Rising Stars' workshop!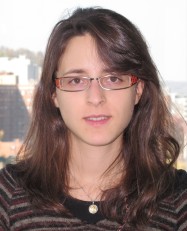 Danai is invited to the 2014 Rising Stars in EECS: An Academic Career Workshop for Women, which will be hosted by UC Berkeley's EECS Department on November 3rd and 4th, 2014. This workshop will bring together approximately 40 outstanding EECS graduate and postdoctoral women, for two days of scientific/technical information exchange and career-oriented discussions on topics including the pros/cons of academia, finding a faculty position, and keys to success as a junior faculty member. Danai will have the opportunity to present her research and to interact with professors at UC Berkeley and from other universities (including MIT, Stanford University, University of Washington, UC San Diego) to become mutually acquainted and to receive advice for advancing her career. Dr. Jeannette Wing, Corporate Vice President of Microsoft Research and President's Professor of Computer Science at Carnegie Mellon University, will deliver the keynote presentation.
Congratulations, Danai!