Posts
Time Series Database Lectures – Seminar Series (Fall 2017)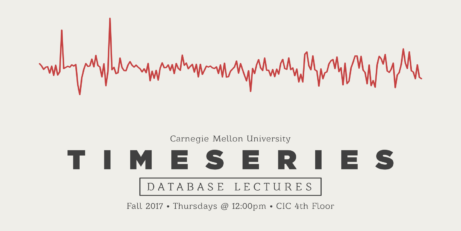 The CMU Database group is holding a semester-long seminar series with the leading developers of time-series database management systems. The Time Series Database Lectures is designed to showcase some of the newer technologies available for data-intensive applications. Each speaker will present the implementation details of their respective systems and examples of the technical challenges that they faced when working with real-world customers.
The list of confirmed speakers are:
Sep 14 – Paul Dix (InfluxDB)
Sep 21 – Karthik Ramasamy (Heron)
Oct 12 – Saurabh Goel (Two Sigma Smooth Store)
Oct 26 – Fintan Quill (kDB)
Nov 2 – Edouard Alligand (QuasarDB)
Nov 16 – Michael Freedman (TimescaleDB)
Videos will be posted after each talk.
See the seminar website for the full schedule.